Open Letter to The New York Times
Dear Publishers and Executive Editors of The New York Times
Your hypocrisy is becoming an ever more serious threat to your own credibility and status as being one of the established newspapers in the United States and the world. The excessive use of "copy & paste" function to transmit fake theories concocted by Fascist/Communist China might explain the reason behind your readership that is declining to a critical level.
In your editorial "Mr. Abe's Dangerous Revisionism" on March 2, 2014, you intone with an aura of authority that our Prime Minister Shinzo Abe "whitewashes the history of the war".
You write "He and other nationalists still claim that the Nanjing massacre by Japanese troops in 1937 never happened".
My response is this: "There are those fools out there who still claim Japanese troops were the bad guys, where in fact, all the unnecessary tragic deaths were caused by Chinese themselves".
Here is a simple un-biased statistic that speaks louder than anything else.
200,000 1937 December
250,000 1938 January
270,000 1938 March
277,000 1938 May
The above number shows how population grew after Japanese troops entered the Nanjing City on 1937 December 13. Those who blame Japan (like author of "The Rape of Nanking") claim that Japan massacred "300,000 innocent Chinese". There was 200,000 people there, soldiers and civilians combined, at the time of Japanese troops' entry. So, the simple arithmetic destroys the claim.
How could the population growths have happened when Japanese soldiers were allegedly committing "horrendous and criminal" massacre, killing untold number of innocent women and children? Answer: Impossible.
Then, 1) who were these people who came in after the Japanese entry and 2) why did they come? Answer 1: Chinese civilians. Answer 2: Because they learned that we, Japanese, restored order, normalcy, life and peace.
"Nanjing Massacre" theorists say that our troops went on killing, maiming, raping, looting and ransacking spree, causing mayhem, destruction and bloodbaths. Who in the world would come back to the place like this? Answer: Nobody.
There were tens of thousands of soldiers, hundreds of journalists, camera-men and commentators in the city. There were 5 foreign journalists (Archibald Steele of the Chicago Daily News, Tillman Durdin of the New York Times, Arthur von Briesen Menken of the Paramount Newsreel, and Leslie C. Smith of Reuters) and some missionaries. There were Chinese communists, too (our enemy at that time was Chinese Nationalists headed by Chiang Kai-shek).
Nobody saw with their own eyes the atrocities allegedly committed by the Japanese soldiers. No government or international body such as The League of Nations made condemnation against our country.
Furthermore, NOT A SINGLE photographic evidence has been produced. All the photographs used to depict "Japan's atrocity" has been proven to be fabrications. You can go to this website for your study on this subject.
Here is an example of laughable amateurishness of the fabrication.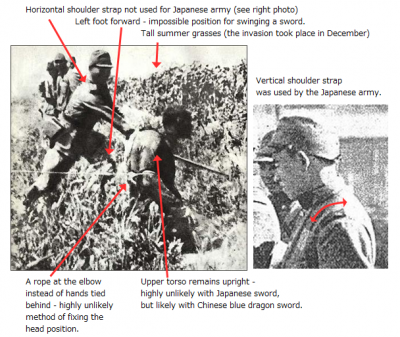 In fact, Mr. Durdin of the New York Times reported on incidents where Chinese soldiers committed "burning spree" in Nanjing and surrounding area. As the Japanese troops struggled to enter the city, Chinese Nationalists, following Chiang's order, burned everything they could as they abandoned the city. He reported on the massive burning of a whole village - military housings, personal and public houses, schools, woods and grasses - around Nanjing city. He wrote all that had been committed by Chinese soldiers.
Instead of the alleged "Japanese atrocities", what they saw were happiness, peacefulness and calmness that the following photos would represent.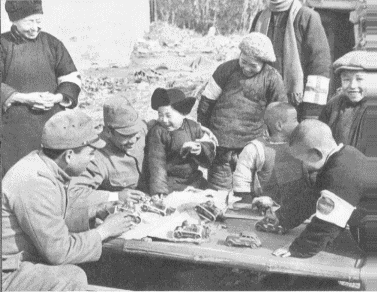 1937 December 20
Nanjing residential area
Chinese children playing with Japanese soldiers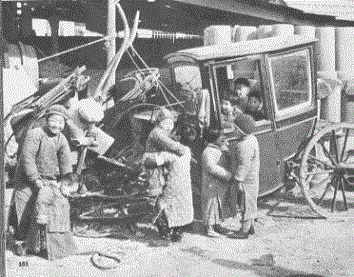 1937 December 20
Nanjing residential area
Children playing joyfully around a horse wagon damaged by the battle.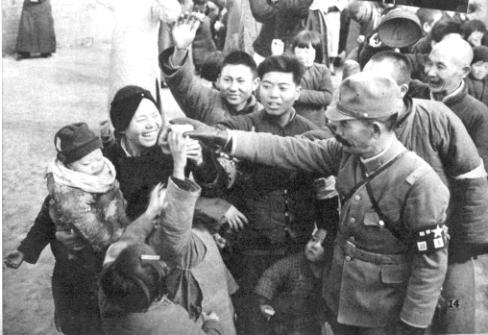 1937 December 20
Nanjing residential area
A soldier offers milk to a Chinese baby.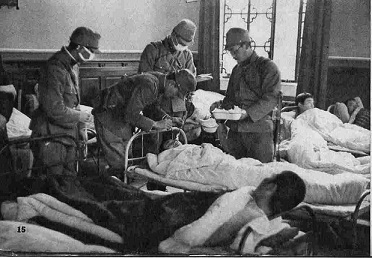 1937 December 20
At a hospital in Nanjing City
Medics treating Chinese soldiers
While you were NOT reporting on what is happening in Nanjing during the war, you were also NOT reporting what is happening in Europe.
Although you have never admitted, it is a known fact that during the time million of Jews were annihilated by the Nazi regime, you, the New York Times, kept silent, downplaying the suffering of Jewish people in Europe. Even when you reported on the killing, you did so very reluctantly on the small spaces of the back pages. You did not raise your voice at all for the MS St. Louis case either, where 930 Jews sailed from Europe to Florida, having had only to return to Germany to be transported to Auschwitz to be killed, because your government of Franklin Roosevelt refuse to give them permission to enter United States.
Now, guess what this is;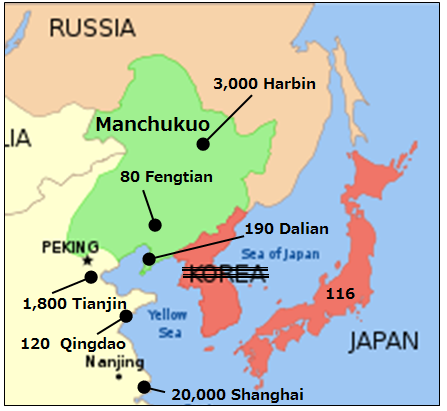 These are the numbers of Jews, a.k.a. your brothers and sisters, who were living at the time of 1940 - about the time you were SILENT on Holocaust.
Fact during the Holocaust that you never reported - thousands of Jews survived exactly because of our presence in China during WWII. Jews travelled via Manchukuo (notoriously called Japan's "puppet state") to Shanghai and then to Japan and other countries. We made tactical alliance with Nazi Germany. As a national policy however, we rejected Hitler's race-based agenda. Despite repeated complaint from Nazi Germany, we kept saving Jews.
Prominent Jews among them were Leo Sirota (pianist), Joseph Rosenstock (conductor), Klaus Pringsheim (conductor), Leonid Kreutzer (music educator), Karl Löwith (philosopher), Louis Hugo Frank (physicist) and Michael Blumenthal (United States Secretary of the Treasury under President Jimmy Carter).
Those Jews, brothers and sisters of many of you New York Times, survived because of our policy set forth by none other than those who would later be convicted in War Tribunal - among them, then Army General and later Prime Minister Hideki Tojo. He is one of the "war criminals" enshrined in Yasukuni Shrine - the shrine that our Prime Minister Abe visited regardless of the US Government's "demand" not to go.
So, my fellow officers of the New York Times, my question is simple: where is your integrity?
Special thanks to:
http://inri.client.jp/hexagon/floorA6F_hb/a6fhb100.html