The more we learn about Louie Zamperini, the more enigmatic he becomes.

On the course of the research, I ended up with the roster of POWs in each camp in which Zamperini was supposedly held during the war. The rosters are posted by http://www.mansell.com/.

Ofuna Camp.. (Link)

There is no "Zamperini".

Omori Camp.. (Link)

There is no "Zamperini".

Naoetsu Camp.. (Link)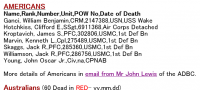 There is no name of "Zamperini".

None.

Why is he not on the roster?

Was Zamperini really a POW in Japan? I am not declaring that he was not. I am just wondering who Zamperini really was, seeing not only the missing name on the roster, but also made-up stories and conflicting memories of a person who was there (Boyington).

My hunch is that there is much more to tell about Zamperini. But, that's just me. I am still glad that he went home alive. I still wish that he rests in peace. I still hope that his name is not tarnished.

To be continued.